A short but very mean stray dog (voiced by Clancy Brown) who Waffle meets in the episode "Off the leash" where Waffle did a quiz that said he's a dog. Barkmeat hates cats and finds them tasty. They both are captured and taken to the Dog Pound. They later escape and part ways as Barkmeat gains new found respect for Waffle.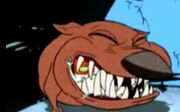 Ad blocker interference detected!
Wikia is a free-to-use site that makes money from advertising. We have a modified experience for viewers using ad blockers

Wikia is not accessible if you've made further modifications. Remove the custom ad blocker rule(s) and the page will load as expected.