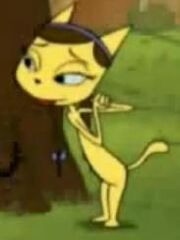 Katilda
is one of the 4 cats, she is yellow, has brown hair, with a purple headband and a ponytail. She thinks that
Mr. Blik
loves her, but he doesn't. She has only appeared twice out of the entire series in the episodes:
Katilda
and
Blikmail
. In
Katilda
, she first appeared, when she says that there's a monster, but it was a truck, and in
Blikmail
, she wants to revalve Mr. Blik's secret, but Blik doesn't want.
Ad blocker interference detected!
Wikia is a free-to-use site that makes money from advertising. We have a modified experience for viewers using ad blockers

Wikia is not accessible if you've made further modifications. Remove the custom ad blocker rule(s) and the page will load as expected.