A 1 million year old Woolly Mammoth that was trapped in an ice cube and befriended Mr. Blik. It thought Mr. Blik was his mother so he followed him around in the episode A Woolly Adventure.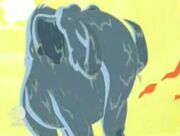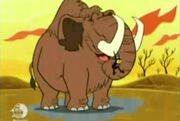 in that episode Mitchel ecame hated by the townvill folk and was selectet to become thair hunt they led thhe townvill away for awile but Mitchel was soon discovered in the struggle mitchel felof the dock into the water semingly killing him but seems he could have survived
Ad blocker interference detected!
Wikia is a free-to-use site that makes money from advertising. We have a modified experience for viewers using ad blockers

Wikia is not accessible if you've made further modifications. Remove the custom ad blocker rule(s) and the page will load as expected.