Squeakus is an evil mouse, only appears in Cats Bringin' down the mouse. Waffle's enemy.
Light Blue Colour. He has a cute sound, and when he turned evil, he has a monster sound.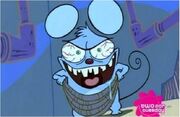 Times he joked
Edit
It's said Squeakus is the (uncatchable mouse), Jerry is the uncatchable mouse too
in the famous cartoon (Tom and Jerry) and Winslow is the uncatchable mouse in (CatDog)
Ad blocker interference detected!
Wikia is a free-to-use site that makes money from advertising. We have a modified experience for viewers using ad blockers

Wikia is not accessible if you've made further modifications. Remove the custom ad blocker rule(s) and the page will load as expected.